This vegan spin on the southern classic dish is cheesy, creamy, and satisfying. Tucking in greens with the pasta enriches the taste and nutrition. Top with breadcrumbs and bake for that golden crisp crunch…Yum!
Serves 4 
Ingredients:
1 cup whole grain elbow macaroni, uncooked
1 tablespoon oil
1 tablespoon flour
1/2 cup non-dairy milk, unsweetened
1/8 teaspoon salt
1/4 teaspoon black pepper
1 cup vegan shredded cheese, divided
3/4 cup chopped collard greens (stems removed)
1/4 cup unseasoned breadcrumbs
1/8 teaspoon paprika
Instructions:
Preheat oven to 350F. Prepare an 8 inch square baking pan by spraying it with non-stick spray. Set aside.
Cook the pasta according to package directions just until al dente. Remove pasta from heat, drain, run under cool water to stop the cooking process, drain again, and set aside.
Pour oil in a medium saucepan over medium-low heat. Whisk in flour slowly for about 1 minute or until bubbly and golden.
Gradually whisk in the non-dairy milk until smooth. Continue whisking for 2 more minutes until slightly thickened.
Add 1/2 cup of vegan shredded cheese and whisk until melted and smooth. Whisk in salt and pepper. Sauce should be smooth and thick.
Stir in chopped collard greens, then stir in cooked pasta until combined.
Pour half of the mac and cheese mixture into the baking dish. Top with remaining 1/2 cup of vegan shredded cheese.  Pour remaining mac and cheese over top.
Sprinkle breadcrumbs and paprika over the top of casserole and bake until bubbly and golden brown, about 25 minutes. Serve warm.
Notes:
Any shape pasta can be used in place of the elbow macaroni. Penne and shell shapes work equally well.
Slightly under cook the pasta (called 'al dente') as it will continue to cook in the oven.
Eating vegan regularly? Consider adding 2 tablespoons of nutritional yeast in step #6 to bump up the flavor and B vitamin content.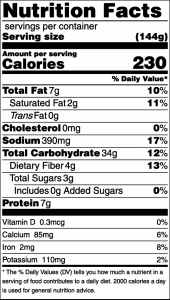 Nutrition facts panel for the Vegan Mac & Cheese