It's summertime in "the Peach State," and what better way to celebrate than by enjoying the official fruit of Georgia! Looking for ways to enjoy this fruit? We've got some recipes for you. 
Remember: fresh, canned, or frozen… they all count towards your daily fruit intake!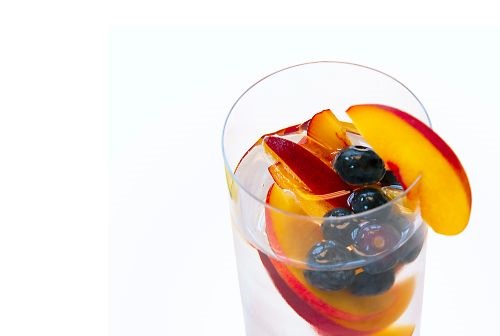 Make drinking water fun by adding some delicious peaches and blueberries. This is also a great way to add more Vitamin C, Vitamin A, Potassium, and fiber when you enjoy eating the fruit after drinking the water. [1] 
Ingredients:
Serves 8
8 cups cool water
1 peach, sliced
½ cup blueberries
Instructions:
Wash hands thoroughly with soap and water.
Wash fruits well before cutting.
Fill a large pitcher with water; add peaches and blueberries to the pitcher. Put in the refrigerator for at least 30 minutes to infuse the flavors. The longer it sits, the more flavorful the water.
Pour into a glass filled with ice. Enjoy! Keep any leftovers in the refrigerator and use within 2 days.
Notes:
Try fresh, frozen, or canned-in-own-juice fruit. Adjust amounts to suit you.
For best flavor, try using a wooden spoon to mash some of the fruit. This is called 'muddling'.
You can refill water after drinking; flavors will not be as strong. Or simply eat the fruit at the bottom of your glass.
Try adding mint leaves for additional flavor.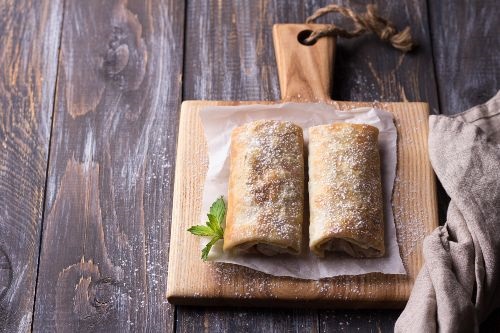 Kids can help make this yummy dessert! Peaches are a delicious filling for these pies any time of day! [2]
Ingredients:
Serves 4
4  (8 inch)flour tortillas
2  medium peaches, pears, or apples
1/4 teaspoon ground cinnamon
6 teaspoons brown sugar (packed)
1/8 teaspoon ground nutmeg
2 tablespoons fat-free milk
sugar 

(optional)
Instructions:
Wash hands with soap and water.
Warm tortillas in microwave or oven to make them easier to handle.
Gently rub fruit under running water.
Peel and chop fruit into pieces.
Place 1/4 of the fruit on half of each tortilla.
In a small bowl, stir together brown sugar, cinnamon and nutmeg. Sprinkle over fruit.
Roll up the tortillas, starting at the end with the fruit.
Place tortillas on an greased baking sheet and make small slashes to allow steam to escape. Brush with milk and sprinkle with additional sugar, if desired.
Bake at 350 degrees in oven for 8-12 minutes or until lightly brown.
Serve warm or cool.
 Notes:
This easy snack helps work fruit into a daily diet. Tortillas, with a variety of toppings, make great snack builders.
Safety Tip: Allow pie to cool slightly before tasting – the steam and sugar can burn.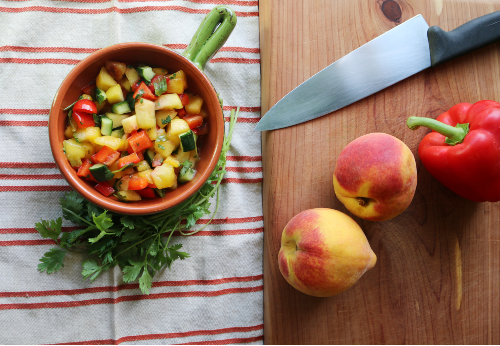 This tasty salsa has the perfect blend of sweetness and crunchy goodness. It can be enjoyed as an appetizer with some whole-grain crackers or as a topping for poultry, fish, or pork. 
Ingredients:
Serves 4
4 medium peaches
1 medium bell pepper (red or green)
1 cucumber
2 green onions
2 tablespoons honey
2 tablespoons lime juice
1 bunch cilantro
Instructions:
Wash hands with soap and water.
Gently rub peaches, green onions and cilantro under cold running water.
Peel and chop peaches. Slice green onions. Finely chop 1 tablespoon cilantro.
Scrub bell pepper and cucumber with a clean vegetable brush under running water.
Take seeds out of cucumber and chop cucumber and bell pepper.
Measure 2 cups peaches, 3/4 cup bell pepper, 1/4 cup cucumber, 1/4 cup green onion, 1 tablespoon cilantro, and combine with honey, and lime juice in a medium sized bowl.
Cover bowl and refrigerate for several hours, stirring occasionally.
Notes:
To peel peaches: drop peach into a pot of boiling water for 10-20 seconds or until the skin splits. Remove peaches and place immediately in an ice water bath to stop the cooking process. Use a paring knife to peel skin.
This salsa is also great with other fruit! We love swapping the peaches for mangos.
Enjoy extra cucumber as snacks.
Extra cilantro gives great flavor to many dishes. Try it mixed with beans, rice or on top of chicken or fish.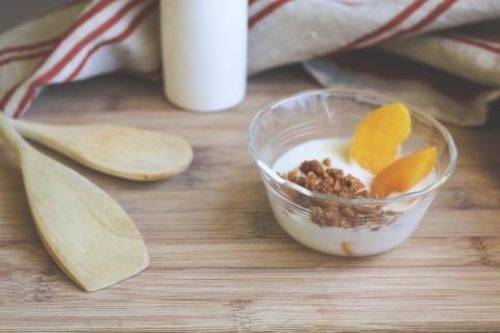 Looking for a healthy spin on a tried-and-true favorite? Sink your teeth into this favorite.
Ingredients:
Serves 3
3 

large sheets graham crackers

1 tablespoon

soft margarine

2 teaspoons

sugar (optional)

1 (15 ounce) can

peaches (in juice or light syrup)

1 1⁄2 cup

low-fat vanilla yogurt
Instructions:
Conventional Preparation:
Wash hands with soap and water.
Place graham crackers in zip top plastic bag or between two pieces of foil and crumble, using the unopened can of peaches as a rolling pin.
Melt margarine.
Add graham cracker crumbles and sugar to melted margarine and stir to mix.
Open can of peaches and drain off liquid.
Heat peaches until warm, 1-2 minutes.
Pour 1/2 cup vanilla yogurt in each of 3 small (1 cup) bowls.
Top each bowl with 1/3 of warm peaches.
Top peaches with 1/3 of graham cracker crumbles and serve.
Microwave Directions:
Follow steps of recipe listed above, but melt margarine at half power (5) in the microwave, about 20 seconds.
Heat peaches in microwave-safe bowl, about 1 minute. Stir. Check to be sure peaches are not too hot before serving to children.
Notes:
Peaches can be peeled, chopped and frozen to use later in smoothies, like our

4 Fruit Smoothie.

 Try grilling peaches, using them on your favorite hot or cold cereal, as a topping for ice cream, or with this yummy 

cinnamon dip

.

 
Written by Darci Bell, RDN, LD and Leslie Davis, MS, RDN, CDCES | edited by the Nutrition Education Team 
Posted: August 30, 2021 
[1] FDA – Nutrition Facts- Fruit