A slow cooker can make home cooked meals doable even on the busiest day. Try this flavorful, well-rounded meal for dinner this week!
Serves 8
Ingredients:
1 (2 pound) boneless chuck roast
1/2 teaspoon salt
1/2 teaspoon pepper
2 teaspoons vegetable oil
2 medium white onions
1 cup canned reduced sodium beef broth
1 (8 ounce) package whole mushrooms
1/2 pound carrots, cut into 2-inch pieces
3/4 pound potatoes, unpeeled and cut into 1-inch pieces
2 stalks celery, cut into 2 inch pieces
Instructions:
Trim roast of any visible fat. Sprinkle the roast on both sides with salt and pepper. Heat the vegetable oil over high heat in a large skillet. Brown the roast on both sides, about 5 minutes per side.
Cut the onions into 8 wedges each. Place the wedges in the bottom of a 6-quart slow cooker. Place the browned roast on top of the onions in the slow cooker. Pour the broth in the skillet and scrape up the browned bits from the bottom of the pan. Pour the broth over the roast.
Cover the slow cooker and cook on low for 3 hours.
After 3 hours, add the trimmed and quartered mushrooms (trim the bottom of the stems off the mushrooms and cut mushrooms into fourths), carrots, potatoes, and celery to the slow cooker. Cover and cook an additional 2 hours.
Notes:
Serve the roast and vegetables over brown rice or riced cauliflower if desired.
Propping the roast on onion wedges help to keep the heat flowing around the meat while it cooks. Adding the other vegetables for the last 2 hours keeps them from overcooking.
Baby bella or white button mushrooms work equally well.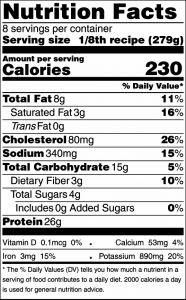 Nutrition facts panel for the slow cooker pot roast with vegetables.