UGA SNAP-Ed is excited to introduce our "From the Kitchen of " series.  This series will feature tips for making healthy meals on a budget from the kitchens of local people and friends that cook.
We are happy to feature Caree Jackson Cotwright. Caree is a UGA Professor, nutrition blogger, and proud mom of three! Caree has a busy schedule, but there is always time to share her kitchen with her three girls.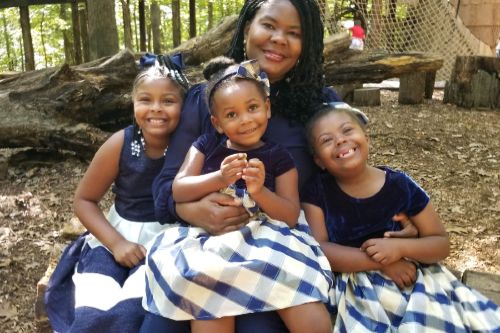 A Family Tradition:
Caree's mom and grandmother instilled in her the love for gardening and cooking. She remembers how often her mom cooked family meals that included vegetables and how her grandma taught her that food brings people together. Now, it is time for her and her kids to make new memories while cooking fruits and vegetables together and picking fruit at the local farms.
Creativity in the Kitchen:
Caree brings her teaching experience into her own kitchen. She involves the girls by allowing them to:
Sort recipe ingredients
Measure the ingredients
Stir in some of the ingredients
Help set the table
As a college professor, she has the opportunity to teach others about healthy eating and nutrition. As a mom, she helps create those healthy habits in her own home. According to Caree, being creative with what you already have at home saves time and money.
Caree's Favorite, Healthy Go-To Meals: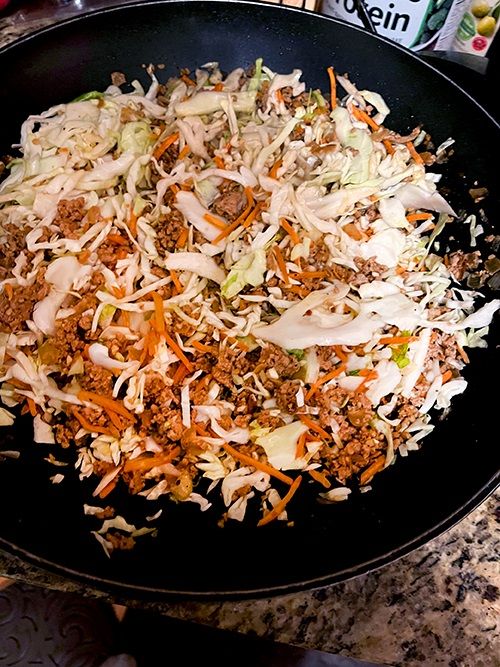 Egg Roll in a Bowl: The photo shows a tasty, quick and healthy spin off of a traditional egg roll made with staple ingredients that Caree keeps in her kitchen. She uses ground turkey, onion, garlic, coleslaw mix (shredded cabbage and carrots), rice (Caree prefers cauliflower rice), oil, vinegar, and spices (ginger, red pepper flakes).
Tacos: Corn tortillas filled with ground cooked turkey, no salt added canned corn, chopped onions, no-salt-added canned black beans
Spaghetti: Noodles (Caree uses spiralized zucchini for noodles -an inexpensive spiralizer can be purchased online and saves a load of money in the long run), favorite sauce, and broccoli on the side
Quesadillas: Made with whole wheat tortillas, onion, peppers, chicken (seasoned shrimp may be used), shredded mozzarella or cheddar cheese, cilantro, sour cream.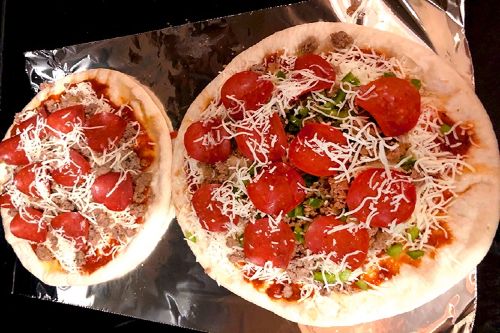 Pita Pizzas: Quick individual pizzas made with pitas and covered with favorite sauce, shredded cheese, chopped vegetables you have on hand, ground cooked turkey sausage, turkey pepperoni, or other cooked meat you have on hand.
Additional Tips from Caree:
Keep staple items on hand (to avoid multiple grocery store trips to save money and time):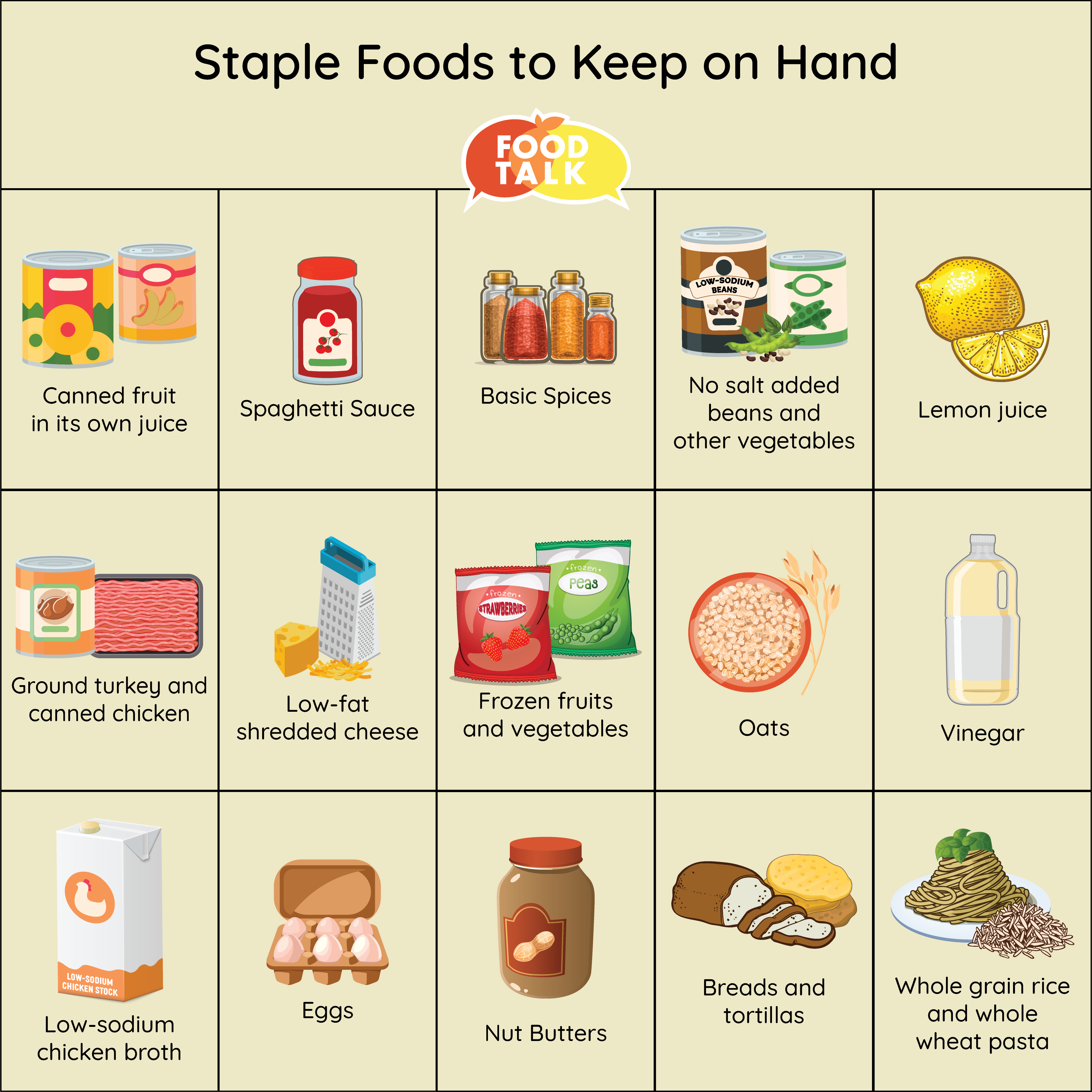 Frozen fruit and vegetables
Canned fruit in its own juice
No salt added beans and other vegetables
Low-sodium chicken broth
Whole wheat pasta
Eggs
Plant-based butters
Ground turkey and canned chicken
Shredded cheese
Spaghetti sauce
Basic seasonings (garlic powder, onion powder, cumin, Italian seasoning, paprika)
Vinegar
Lemon juice
During the business of the day, Caree suggests you take a few minutes for yourself to refresh and renew (5-minute stretching breaks during the workday and 10-minute walking breaks between tasks).
We hope these valuable tips from Caree have inspired you to:
Add more fruits and vegetables to your family's diet
Use what you have available for a quick and healthy meal
Take a few minutes for yourself
Stay tuned for more tips in this series "From the Kitchen of".
Written by Leslie Davis, MS, RDN, LD, CDCES | edited by Darci Bell, RDN, LD, Ph.D. Candidate and the Nutrition Education Team.
Posted on: March 28, 2022
Be Creative
Drink Water
Focus on Health
How to Cook Better
Invite Your Kids
Plan Ahead
Save Money
Shop Smarter
Store Food
Uncategorized