Our third blog in our "From the Kitchen of" series has some great ideas to help you save money and time by planning healthy meals.
We are happy to introduce Phyllis Cain. Phyllis is a seasoned program assistant with 32 years of experience with the University of Georgia Cooperative Extension. She thrives on helping people to feel empowered to make healthier food choices and use new cooking skills learned in her classes. Phyllis thinks of herself as "a country girl from a small town who fell in love with serving people." She has a strong desire to learn about healthy nutrition and now teaches what she knows to others. One of her proudest accomplishments has been making a difference in her own home by teaching her son how to prepare and eat healthy foods.
Her class participants often express their gratitude because they have learned how to make healthy lifestyle changes that include reducing their consumption of sugary beverages and identifying ways to add more fruits and vegetables to their diet.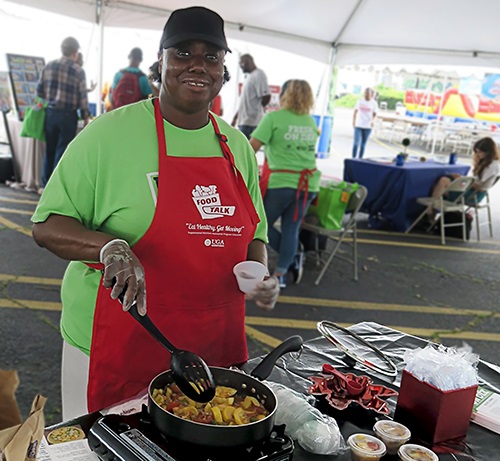 One of Phyllis's favorite recipes from Food Talk is Turkey and Squash Skillet.  The picture above shows Phyllis cooking this squash dish at one of the many events she has attended over the years. Her station is always one of the crowd's favorites!
Phyllis enjoys teaching and cooking at home and wants to share the following ideas you can use in your kitchen.
Meal Prepping and Planning Tips from Phyllis:
Chicken stock – If you have some uncooked chicken available, simply add the chicken and your favorite seasonings to a large pot and add enough water to cover the chicken. Boil the chicken until it reaches 165 degrees Fahrenheit on a cooking thermometer (cooking times range depending on part of the chicken or whether it is bone-in or boneless). Remove the chicken when it's done cooking, save the remaining liquid, and put it in the refrigerator when it cools down. Skim the fat off the top of the liquid when it is chilled. Freeze the liquid in a re-sealable freezer bag. You just made your own chicken stock! Then use the cooked chicken on salad greens with a sweet potato on the side; or with a side of vegetables and brown rice, or in a whole grain tortilla with some vegetables along with a piece of fruit on the side and you have a meal!
Homemade salad dressing – Phyllis often adds a side salad to her meals as an easy way to get in her daily vegetables. One of her favorite homemade dressings is this tasty Curry Dressing.
Phyllis's Homemade Curry Dressing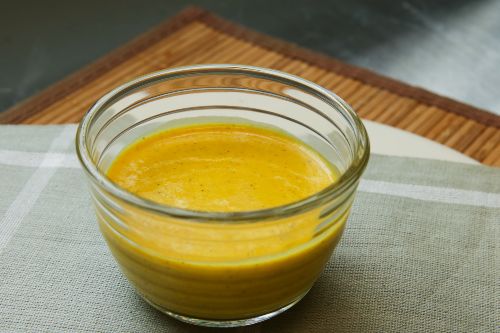 Ingredients:
Serves 16
1  green bell pepper
1 red bell pepper
1 sweet onion
3 cloves of garlic
1 lemon
1 cup of vegetable oil
1 tablespoon of curry powder
1 teaspoon of cumin
1 teaspoon of salt
1 teaspoon of black pepper
Instructions:
Wash hands with soap and water.
Scrub bell peppers and lemon with a clean vegetable brush under running water.
Gently rub onion and garlic under cold running water.
Remove stem and seeds from bell pepper and cut in half. Set aside ½ of the red pepper and ½ of the green pepper. Store the remaining halves in the refrigerator for the next couple of days or freeze them to use later.
Peel onion and dice. Measure ¼ cup of onion. Store the remaining onion and refrigerate it to use in the next few days or freeze it to use later.
Peel garlic.
Squeeze the lemon and set aside the juice.
Add ½ red bell pepper, ½ green bell pepper, ¼ cup onion, garlic, lemon juice, vegetable oil, and spices to a blender and mix until smooth.
Notes:
If you are using frozen onion and bell peppers, use the following measurements: ¼ cup of frozen onion (thawed), ½ cup of frozen green bell pepper (thawed), and ½ cup red bell pepper (thawed).
Garlic cloves can be replaced with 1 teaspoon of minced garlic per garlic clove.
Use 2 tablespoons of lemon juice if you do not have a fresh lemon.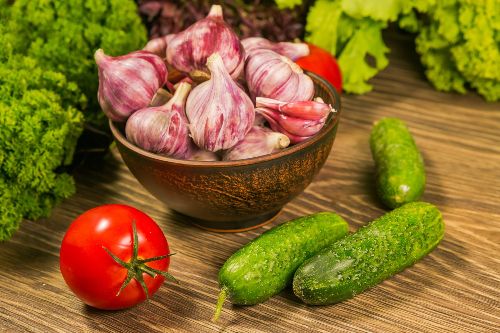 Tips to add flavor and nutrients:

Looking for an easy way to add flavor to a salad?  Cut a garlic clove in half and rub along the inside of the salad bowl before filling it with your leafy greens. Add your greens and veggies to the bowl and mix for added flavor.
Trying to sneak in extra veggies with your family? Puree carrots and add to jarred tomato sauce to serve with pasta. Use leftover cooked vegetables along with ground meat to make a tasty meatloaf.

Keep these staples on hand for a quick meal or snack:

Canned salmon or tuna can be used for a quick salad or croquettes.
Low-sodium diced tomatoes/ tomato sauce can be added to make a soup or with pasta.
Frozen mixed vegetables are great to cook in the microwave as a quick side; used in soup or casserole.
Ground meat or turkey can be cooked ahead and, frozen until ready to use.
Fresh vegetables and fruit in season are a great snack; or can be added to a salad or used as a side dish.
Lunch meat and low-fat cheese are easy to throw on a salad, used to make a sandwich with whole-grain bread or eaten as a snack.
Rice, grains, and legumes add fiber and nutrients to soups, side dishes, or on salads.
Phyllis's tips on exercise
Is it hard to find time to exercise? Try doing exercises at every commercial break during your favorite shows. You will be amazed at how many extra steps or strength-building exercises you can do without even thinking about it. See this TV breaks video on Foodtalk.org to see how easy and fun these tv breaks can be.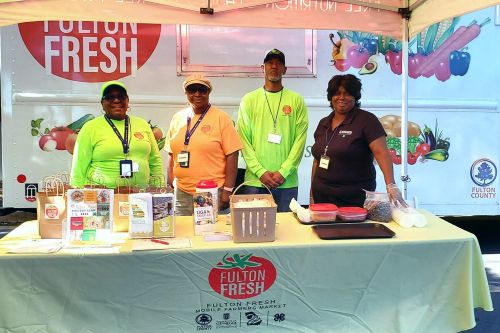 If you live in the Atlanta Metro area, you may be able to attend one of Phyllis's classes in the community. Contact the Fulton County Extension SNAP-Ed program for more information. Please call 404-613-4920 or visit https://extension.uga.edu/county-offices/fulton.html for more information.
Whether it is at the farmers market or in a class, Phyllis will have plenty of great tips to share to help you learn new kitchen skills and great recipes. Stay tuned for more in our From the Kitchen of blog series this spring!
Written by Leslie Davis, MS, RDN, LD, CDCES | edited by Darci Bell, RDN, LD, Ph.D. Candidate and the Nutrition Education Team
Posted on: Feb. 13, 2023
Be Creative
Drink Water
Focus on Health
How to Cook Better
Invite Your Kids
Plan Ahead
Save Money
Shop Smarter
Store Food
Uncategorized