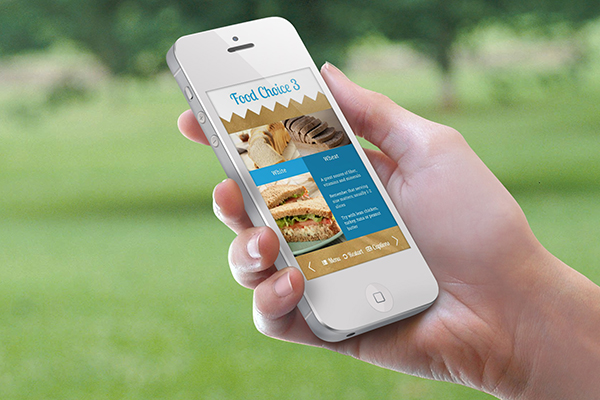 Food eTalk in 4 Easy Steps
Looking for ways to keep learning from the comfort of your home? Our eLearning modules are recognized nationally as being a sound source of nutrition and healthy lifestyle information.
Food eTalk and Food eTalk: Better U online modules (a fancy word for lessons) are short, easy, and fun resources for empowering you to live a more active lifestyle, shop smarter, make healthier food choices, and cook delicious meals on a budget. The modules themselves are free and if you complete all 10, you qualify for free kitchen and fitness items! We are going to walk you through how you can check them out.
Here is how in 4 easy steps:
Visit FoodTalk.org. Click "Sign Up" to create a new account using your email address or social media account.
The initial questions ask about how you like to eat now, and a consent form. You'll see these same questions at the end of the class.
2. Complete all 10 class modules at your own pace.
3. Each class module has a couple of questions about how you feel about the information in the modules. This is how we tell if we are doing a good job.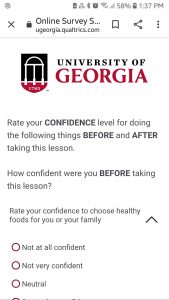 4. Once you finish the 10 modules, you'll receive a completion certificate. The certificate has directions for contacting your local County Extension office to receive a package of free kitchen and exercise items.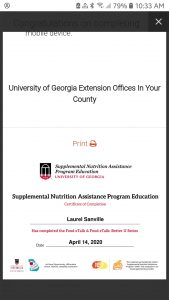 Happy eLearning! If you have questions, please contact the UGA SNAP-Ed office at 706-542-6117 or send an email to snap-ed@uga.edu for more information.
Written by Laurel Sanville, MS, RDN, LD | Edited by the UGA SNAP-Ed team
Interested in more
recipes
, cooking, and exercise
videos
?
Sign Up
to subscribe to our FoodTalk eNewsletter and find out if you are eligible for online classes.